RESEARCHING, DESIGNING AND MANUFACTURING OF PRIMER CHARGE USED FOR PROPELLANT CHARGE OF PT-8M.VN BULLET
87 views
Keywords:
Primer charge; Black powder (No.2 and No.3); Denstity; Diameter; Thickness; Pressure; Maintaining time.
Abstract
Based on survey results of foreign samples, the authors have simulated primer and then calculating, designing and manufacturing of mold to compressure primer charge. Thereby, researching on technology (pressure, maintaining time of pressure) of manufacturing primer charges by equipment, technology and materials available in the country. The results showed that: Optimal pressure is (55±2) MPa. Maintaining time of pressure is (5±0.5) seconds and Material is No.3 black powder will give required products with density (1.836±0.005) g/cm3 (require is not less than 1.823 g/cm3), diameter (25.15±0.02) mm (require is from 24.7 to 25.3 mm), thickness (5.01±0.01) mm (require is from 4.75 to 5.25 mm), mass (4.02±0.01) g (require is from 3.9 to 4.2 g), the surface is smooth and vibration test is not be cracked. The achieved research results are the basis for manufacture and application of primer charges for PT-8M.VN bullet in Vietnam.
References
[1]. Tiêu chuẩn TCVN/QS 839:2013, "Thuốc đen hạt", Bộ Quốc phòng.
[2]. Điều kiện kỹ thuật, "Thuốc đen hạt", Dấu "B", Tổng cục CNQP (2016).
[3]. Lê Duy Bình và cộng sự, "Ảnh hưởng của áp suất nén ép, chiều dài và đường kính đến mật độ của khối thuốc truyền nổ A-IX-1", Tạp chí KH&CN quân sự, số đặc san FEE, 10-2020, tr. 331-336.
[4]. Военно-воздушные силы/Союз Советских Социалистических Республик, "Краткое техническое описание и инструкция по эксплуатация пиропатронов катапультирования". Москва (1954).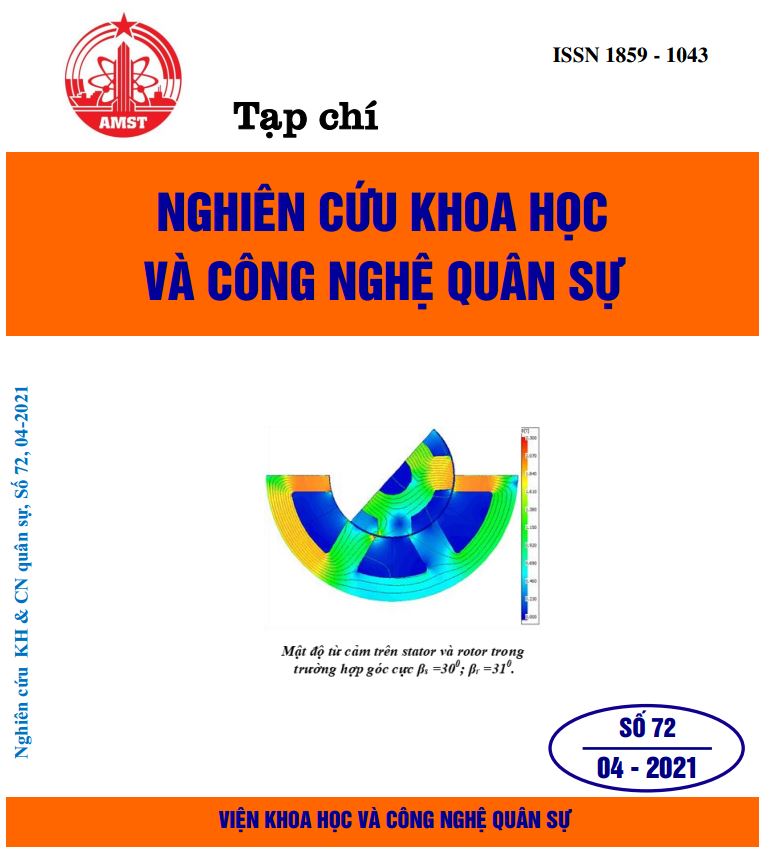 Downloads
How to Cite
Bình. "RESEARCHING, DESIGNING AND MANUFACTURING OF PRIMER CHARGE USED FOR PROPELLANT CHARGE OF PT-8M.VN BULLET". Journal of Military Science and Technology, no. 72, Apr. 2021, pp. 82-88, https://online.jmst.info/index.php/jmst/article/view/64.
Section
Research Articles