Research on formulating ingredients and evaluating the decomposition ability of 2-chloroethyl phenylsulfide by green decontamination based on molybdate
114 views
Keywords:
2-CEPS; Green decontamination; Molypden; Triton X-100.
Abstract
This paper presents the results of initial research on investigating the role of some components in green decontamination in the metabolism of 2-chloroethyl phenyl sulfide (a military poison simulant yperit). Each component of green decontamination was investigated and determined to play a role in the detoxification process, including surfactants, catalysts, buffers and oxidizing agents. From the research results, the optimal conditions were selected and initially proposed a detoxifying ingredient with 2-CEPS conversion efficiency of over 99% after 15 minutes. Simultaneously, a number of products have been identified from which the mechanism of 2-CEPS metabolism is proposed.
References
[1]. Nguyễn Văn Hoàng, Vũ Ngọc Toán, "Giáo trình chất độc quân sự", Viện Khoa học và Công nghệ quân sự, (2018).
[2]. Vũ Thanh Bình, Nguyễn Ngọc Phan, Phùng Minh Tấn, "Giáo trình Chất tiêu tẩy và phương pháp tiêu tẩy", TSQ Phòng hóa, Binh chủng Hóa học, (2017).
[3]. Beer Singh, G. K. Prasad, K. S. Pandey, R. K. Danikhel, R. Vijayaraghavan, "Decontamination of Chemical Warfare Agents". Defence Science Journal, 60 (4), pp. 428-441, (2010).
[4]. George W. Wagner, Lawrence R. Procell, David C. Sorrick, "Development of new decon green- a how to guide for the rapid decontamination of CARC paitn", U.S. Army Edgewood Chemical Biologicl Centrer, (2008).
[5]. George W. Wagner, Lawrence R. Procell, Yu-Chu Yang, Clifford A. Bunton, "Molybdate/peroxide microemulsions useful for decontamination of chemical warfare agents", United States Patent, US 6,723,891 B1, (2004).
[6]. George W. Wagner, Philip W Bartram, Lawrence R. Procell, David D. Henderson, Abraham L. Turetsky, Vipil K. Rastogi, Yu-Chu Yang, "Decon green Development and chemical, biological agent efficacy testing", U.S. Army Edgewood Chemical Biologicl Centrer, (2004).
[7]. M. Kassem, M. Sh. Fayed, A. M. Soltan and M. A. Ibrahim, "Oxidative decontamination of sulfur mustard using formulations based on hydrogen peroxide", Proceeding of the 4th ICEE Conference 27, pp. 503 – 514, (2008).
[8]. North atlantic treaty organizatio, "Sensitive Equipment Decontamination", Science and Technology organization, (2017).
[9]. Ryoji Noyori, Masao Aoki and Kazuhiko Sato, "Green oxidation with aqueous hydrogen peroxide", (2003).
[10]. Victor J. Ketcham, EnzoL. Coltrinari, Wayne W. Hazen, "Pressure oxidation process for the production of molybdenum trioxide molypdenite", US 6,149,883, (2000).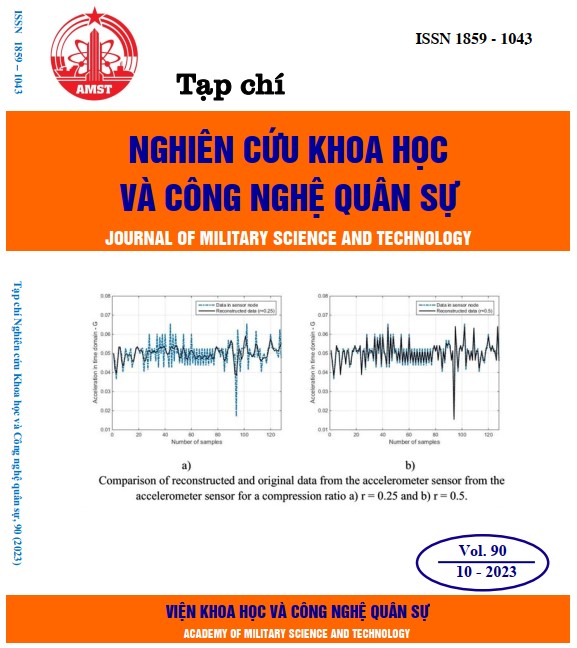 Downloads
How to Cite
Vũ, T. B., Đỗ Ngọc Khuê, Hà Hải Nam, Đào Duy Hưng, Hoàng Kim Huế, and Nguyễn Thanh Hải. "Research on Formulating Ingredients and Evaluating the Decomposition Ability of 2-Chloroethyl Phenylsulfide by Green Decontamination Based on Molybdate". Journal of Military Science and Technology, vol. 90, no. 90, Oct. 2023, pp. 94-101, doi:10.54939/1859-1043.j.mst.90.2023.94-101.
Section
Research Articles