Study on some factors affecting the process of synthetic MIL-100(Fe) by sonochemical synthesis method
26 views
Keywords:
MIL-100(Fe); Sonochemical synthesis method; Reaction yield.
Abstract
The Metal-Organic Framework material MIL-100(Fe) has been synthesized into iron (III) based on a 1,3,5 benzentricacboxylic organic ligand (H3BTC) by sonochemical synthesis method using a solvent that is water. Factors that affect the synthesis of materials have been investigated including sonochemical synthesis power, reaction time, reaction rate and reactant concentration. Research results show that the suitable condition for the synthesis of MIL-100 (Fe) materials by the sonochemical method is the Fe3+:H3BTC=3:2 reaction ratio with sonochemical synthesis power of 1080W at a concentration of 0.1M for a period of 10 minutes for a reaction yield of more than 72%. The resulting material was subjected to X-ray diffraction analysis, and surface area BET. The synthesized material has a high surface area of up to 1033.8 m2/g and a pore volume of 0,79 cm3/g.
References
[1]. Férey, G., "Hybrid porous solids: past, present, future". Chem. Soc. Rev. 37(1): p. 191-214, (2008).
[2]. Lee, J., et al., "Metal–organic framework materials as catalysts". Chem. Soc. Rev. 38(5): p. 1450-1459, (2009).
[3]. Guo, Y., et al., "A new Dy (III)-based metal-organic framework with polar pores for pH-controlled anticancer drug delivery and inhibiting human osteosarcoma cells". Journal of Coordination Chemistry. 72(2): p. 262-271, (2019).
[4]. Leng, X., et al., "Biocompatible Fe-based micropore metal-organic frameworks as sustained-release anticancer drug carriers". Molecules. 23(10): p. 2490, (2018).
[5]. Simon, M.A., et al., "Hydrothermal synthesize of HF-free MIL-100 (Fe) for isoniazid-drug delivery". Scientific reports. 9(1): p. 1-11, (2019).
[6]. Dinh Du, P. and P. Ngoc Hoai, "Synthesis of MIL-53 (Fe) metal-organic framework material and its application as a catalyst for Fenton-type oxidation of organic pollutants". Advances in Materials Science Engineering. 2021: p. 1-13, (2021).
[7]. Darvishi, S., et al., "Ultrasound-assisted synthesis of MIL-88 (Fe) coordinated to carboxymethyl cellulose fibers: A safe carrier for highly sustained release of tetracycline". International Journal of Biological Macromolecules. 181: p. 937-944, (2021).
[8]. Ji, L., et al., "Facile synthesis of Fe-BTC and electrochemical enhancement effect for sunset yellow determination". Talanta Open. 5: p. 100084, (2022).
[9]. Majano, G., et al., "Room-temperature synthesis of Fe–BTC from layered iron hydroxides: the influence of precursor organisation". CrystEngComm. 15(46): p. 9885-9892, (2013).
[10]. Iqbal, B., et al., "One‐Pot Synthesis of Heterobimetallic Metal–Organic Frameworks (MOFs) for Multifunctional Catalysis". Chemistry–A European Journal. 25(44): p. 10490-10498, (2019).
[11]. He, S., et al., "Metal-organic frameworks for advanced drug delivery". Acta Pharmaceutica Sinica B. 11(8): p. 2362-2395, (2021).
[12]. Samuel, M.S., et al., "Ultrasound-assisted synthesis of metal organic framework for the photocatalytic reduction of 4-nitrophenol under direct sunlight". Ultrasonics sonochemistry. 49: p. 215-221, (2018).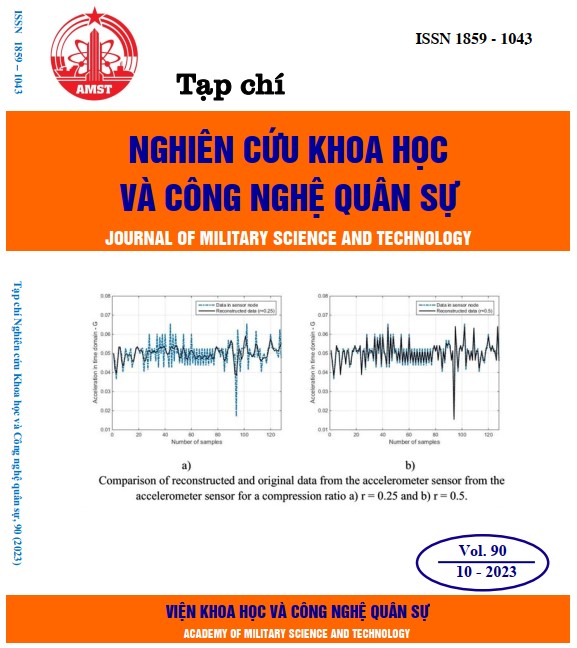 Downloads
How to Cite
Le Thanh, B., T. H. P. Nguyễn, D. D. LA, T. P. Nguyen, and V. A. Nguyễn Thị. "Study on Some Factors Affecting the Process of Synthetic MIL-100(Fe) by Sonochemical Synthesis Method". Journal of Military Science and Technology, vol. 90, no. 90, Oct. 2023, pp. 79-86, doi:10.54939/1859-1043.j.mst.90.2023.79-86.
Section
Research Articles