MACHINERY USING EC TECHNOLOGY FOR PROCESSING THE RIFLE OF DIFFERENT TYPES OF BARREL SUCH
94 views
Keywords:
Electrochemical; Rifle; Technology 4.0; Machining.
Abstract
The electrochemical (EC) method based on the principle of anode solubility is a common machining method in developed countries. The moonth of rifle surface using EC machining is two levels higher than that of mechanical one. The accuracy of the rifles dimensions in the whole barrel length is higher as well. The cost of making cathode is 5 to 10 times cheaper than mechanical cutting tools. Its productivity is much higher than mechanical processing, too. However, this method requies complex calculation and technological parameters adjustment and the cathode requires high accuracy in making. We then have built an EC processing system using automation technology which can adjust the parameters for different types of barrels.
References
[1]. Hoàng Nguyên Khôi, Báo cáo kết quả đề tài cấp Viện: Hoàn thiện công nghệ gia công điện hóa rãnh xoắn nòng súng AGS-17 bằng phương pháp điện hóa, Viện Vũ Khí, 2003.
[2]. Học Viện Kỹ Thuật Quân sự, Nguyên lý thiết kế vũ khí có nòng, Hà Nội, 2003.
[3]. В.П Смеленцев, технология Электрохимической обработки внутренних поверхностей, Москва, 1978.
[4]. В.П Любимоб, Приспособление для Электрофизической и Электрохимической обработки, Москва, 1988.
[5]. Б.А Голобачёв, Электрохимичекая обработка деталей сложной формы, Москва, 1969.
[6]. Д.Л Мороз, Электрохимическая обработка металлов, Москва,1969.
[7]. Л.Я Либоь, Установки подачи Электролита при Электрохимической обработке, Москва, 1981.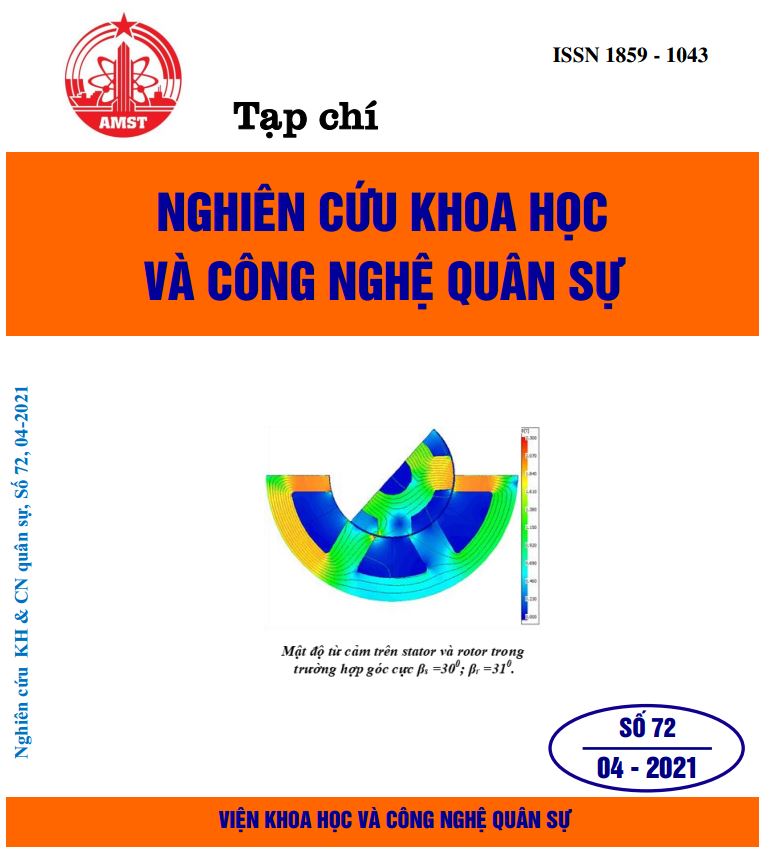 Downloads
How to Cite
Điển. "MACHINERY USING EC TECHNOLOGY FOR PROCESSING THE RIFLE OF DIFFERENT TYPES OF BARREL SUCH". Journal of Military Science and Technology, no. 72, Apr. 2021, pp. 60-65, https://online.jmst.info/index.php/jmst/article/view/67.
Section
Research Articles