THE SURVEY OF DYNAMICS OF ROBOT-WEAPON SYSTEM BASED ON OF MECHANICS OF MULTIBODY SYSTEM
74 views
Keywords:
Combat robot; Dynamics; Machine gun PKMS; Stability.
Abstract
The article presents a model for calculating and surveying dynamics of the robot-weapon system based on of mechanics of the multibody system. The robot consists of the vehicle body, the gun rack, transmission structure and the wheels. The weapon is a machine gun PKMS, which is attached to the gun rack by the orientation bar and reduces shock springs. The results of the calculating allowed the assessment of the stability of the robot-weapon system and used as the basis for calculating for design, installation and arrangement of components with the optimization of the system.
References
[1]. Trương Tư Hiếu, Uông Sỹ Quyền, "Trang bị điển hình vũ khí tự động", NXB Học viện Kỹ thuật quân sự (2004).
[2]. Võ Ngọc Anh, "Động lực học vũ khí tự động", NXB Học viện Kỹ thuật quân sự (1995).
[3]. Phạm Huy Chương, "Giáo trình cơ sở kết cấu và tính toán thiết kế máy tự động", NXB Học viện Kỹ thuật quân sự (1998).
[4]. "Hướng dẫn sử dụng súng PKMS", Cục quân khí, Tổng cục Kỹ thuật.
[5]. J. Wittenburg, "Động lực học hệ vật rắn" (Người dịch: GS TSKH Nguyễn Đông Anh), NXB Xây dựng (2000).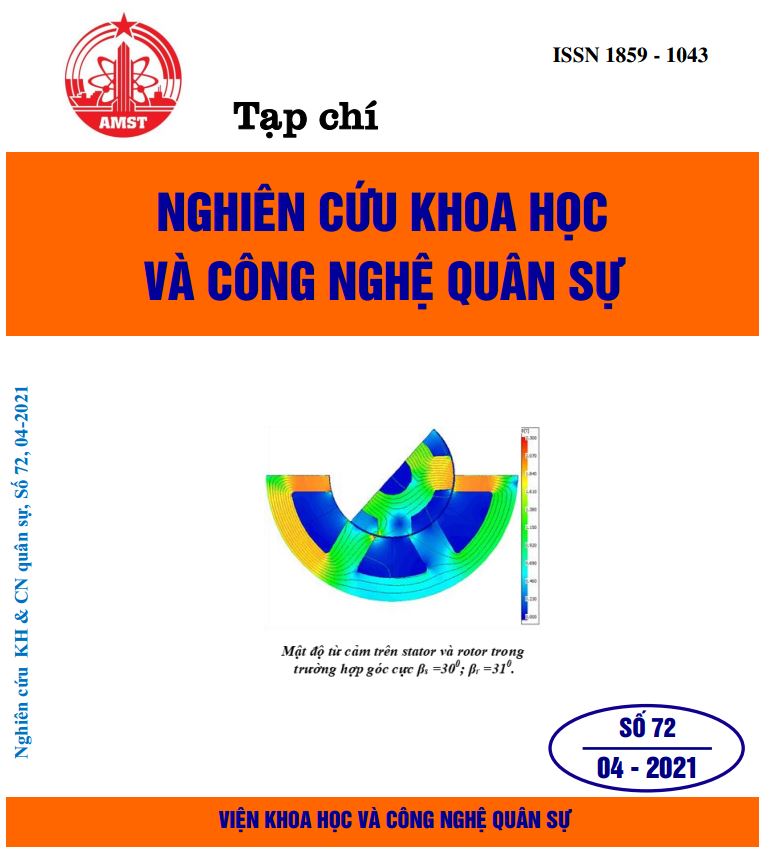 Downloads
How to Cite
Tuấn. "THE SURVEY OF DYNAMICS OF ROBOT-WEAPON SYSTEM BASED ON OF MECHANICS OF MULTIBODY SYSTEM". Journal of Military Science and Technology, no. 72, Apr. 2021, pp. 150-7, https://online.jmst.info/index.php/jmst/article/view/45.
Section
Research Articles