An approach for designing supervisory control and data acquisition system on submarines
59 views
Keywords:
CSM-SM; SCADA; SUB-SCADA; QNX.
Abstract
In this paper, the authors proposed a design of a SCADA system for controlling, monitoring, and collecting information and operating parameters on manned submarines. The proposed system improves and speed-ups the supervising and monitoring tasks as well as enhances the operation reliability. The control and supervision model of submarines (CSM-SM) is implemented by dividing the supervisory control system into sub-modules, each sub-module has its computer, installed the dedicated software running on the QNX operating system, responsible for independent supervisory control on the assigned location, and at the same time, can control the actuators in other compartments. All components in the system are connected through a data network using the military transmission standard MIL-STD-1553B, they hence form a unified surveillance control system. The model has been fully tested in laboratory condition and on-site with working submarines and received positive comments from the operational unit.
References
[1]. A.Daneels and W.Salter, "What is Scada?", International Conference on Accelerator and Large Experimental Physics Control System, Trieste, Italy, (1999).
[2]. M. M. Ahmed; W. L. Soo, "Supervisory Control and Data Acquisition System (SCADA) based customized Remote Terminal Unit (RTU) for distribution automation system," in 2008 IEEE 2nd International Power and Energy Conference, Johor Bahru, Malaysia, (2008). DOI: https://doi.org/10.1109/PECON.2008.4762744
[3]. Raman Dugyala, N Hanuman Reddy, Shrawan Kumar, "Implementation of SCADA Through Cloud Based IoT Devices - Initial Design Steps," in 2019 Fifth International Conference on Image Information Processing (ICIIP), Shimla, India, (2019). DOI: https://doi.org/10.1109/ICIIP47207.2019.8985966
[4]. Data Device Corporation, "MIL-STD-1553 Designer's Guide"; doi: 10.1108/aeat.1999.12771dab.055. DOI: https://doi.org/10.1108/aeat.1999.12771dab.055
[5]. H. Plankl, "MIL-STD-1553B and its potential for the future," in ETTC 2018 European Test and Telemetry Conference, Germany, (2018). DOI: https://doi.org/10.5162/ettc2018/6.1
[6]. QNX Software system, "QNX Realtime Operating System - System Architecture", pp. 3-47, (2005).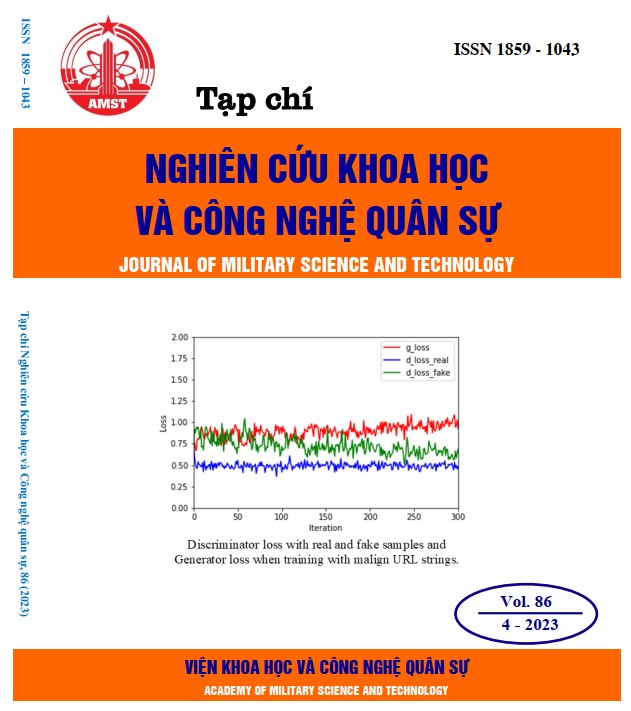 Downloads
How to Cite
Pham, C., A. Nguyễn Tuấn, and T. Nguyễn Minh. "An Approach for Designing Supervisory Control and Data Acquisition System on Submarines". Journal of Military Science and Technology, vol. 86, no. 86, Apr. 2023, pp. 120-8, doi:10.54939/1859-1043.j.mst.86.2023.120-128.
Section
Research Articles