Researching solutions for production of electrical parameter testing module on battle control vehicles
53 views
Keywords:
Monitoring test; Electronic circuit; Integrated circuit; Combat control vehicle.
Abstract
This paper presents a method of manufacturing a module to test and monitor electrical parameters on the basis of integrated electronic circuits to process peripheral signals to ensure inspection and supervision. Using the module makes the system compact, improves accuracy and reliability during calibration and calibration, and uses test equipment to monitor electrical parameters on combat control vehicles.
References
[1]. Đỗ Huy Giác. "Lý thuyết mạch tín hiệu tập I, II", Học Viện Kỹ Thuật Quân sự, Hà Nội, (2000).
[2]. Nguyễn Thúy Vân. "Kỹ thuật số", Nhà xuất bản khoa học kỹ thuật, Hà Nội, (2004).
[3]. Nguyễn Lâm Đông. " Nhập môn xử lý tín hiệu số", Nhà xuất bản KH KT, Hà Nội, (2004).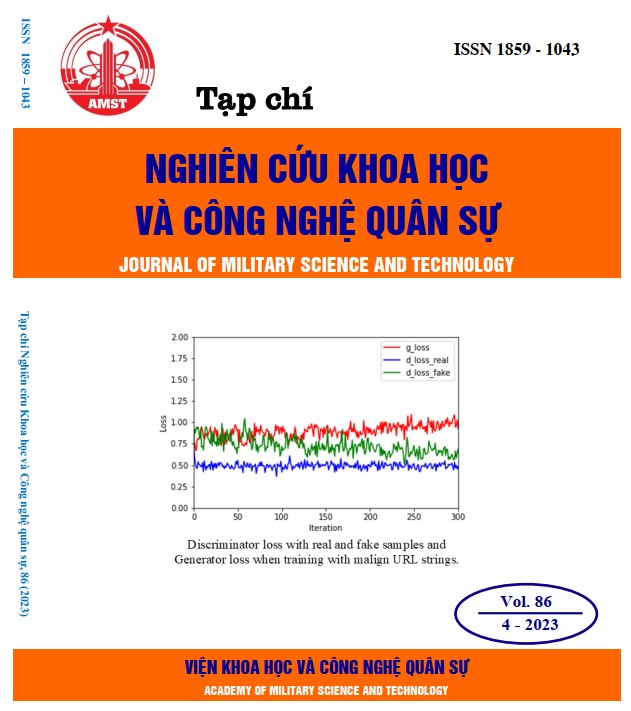 Downloads
How to Cite
Trần Quang Huy, and M. Phạm Văn. "Researching Solutions for Production of Electrical Parameter Testing Module on Battle Control Vehicles". Journal of Military Science and Technology, vol. 86, no. 86, Apr. 2023, pp. 177-80, doi:10.54939/1859-1043.j.mst.86.2023.177-180.