APPLICATIONS OF ARTIFICIAL INTELLIGENCE FOR STRATEGIC CAMPAIGN OPERATIONS
90 views
Keywords:
AI; Artificial Intelligence; 4th Industry revolution; Campaign; Strategy.
Abstract
The fourth industrial networks are creating breakthrough developments in the military field in general, in improving operational efficiency in particular. As one of the outstanding achievements in the digital field, Artificial Intelligence (AI) is the basis for creating intelligent integrated systems that effectively support and bring breakthroughs in our work. Commanders and staffs in strategic campaign operations to meet modern warfare requirements. The article analyzes the basis of AI technology application and the ability to support the operations of the commander and agency in new operational conditions.
References
[1]. George F. Luger, William A. Stubblefield, "Artificial Intelligence - Structure and Strategies for Complex Problem Solving", Wesley, 1997.
[2]. Bùi Xuân Toại, Trương Gia Việt (Biên dịch), "Trí tuệ nhân tạo – Các cấu trúc và chiến lược giải quyết vấn đề", NXB Thống kê, 2000.
[3]. Elaine Rich, Kevin Knight, "Artificial Intelligence", McGraw-Hill, 1991.
[4]. Bạch Hưng Khang, Hoàng Kiếm, "Trí tuệ nhân tạo – Các phương pháp và ứng dụng", NXB Khoa học kỹ thuật, 1989
[5]. Nguyễn Thanh Thủy, "Trí tuệ nhân tạo – Các phương pháp giải quyết vấn đề và kỹ thuật xử lý tri thức", NXB Giáo dục, 1995.
[6]. Nguyễn Trung Tuấn, "Trí tuệ nhân tạo (tài liệu dùng cho sinh viên, kỹ sư, cử nhân ngành CNTT)", NXB Giáo dục, 1998.
[7]. Học viện Quốc phòng (2016), "Công tác chỉ huy - tham mưu tác chiến chiến lược trong chiến tranh bảo vệ Tổ quốc", Hà Nội.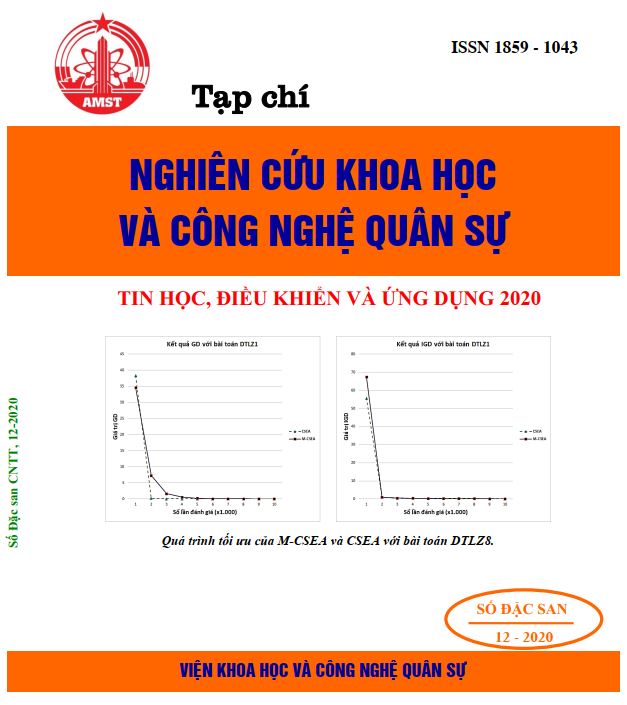 Downloads
How to Cite
Nguyễn Long. "APPLICATIONS OF ARTIFICIAL INTELLIGENCE FOR STRATEGIC CAMPAIGN OPERATIONS". Journal of Military Science and Technology, no. csce4, Dec. 2020, pp. 94-99, https://online.jmst.info/index.php/jmst/article/view/323.