Computer control in human-machine interaction systems by hand movements
143 views
Keywords:
Human-machine interaction; Gesture recognition; Body language; Movement of hands.
Abstract
Computers have become popular in recent years. The forms of human-computer interaction are increasingly diverse. In many cases, controlling the computer is not only through the mouse and keyboard, but humans must control the computer through body language and representation. For some people with physical disabilities, controlling the computer through hand movements is essential to help them interact with the computer. The field of simulation also needs these interactive applications. This paper studies a solution to build a hand tracking and gesture recognition system that allows cursor movement and corresponding actions with mouse and keyboard. The research team confirms that the system works stably, accurately and can control the computer instead of a conventional mouse and keyboard through the implementation and evaluation.
References
[1]. Erdem, E. Yardimci, Y. Atalay, V. Cetin, A. E. "Computer vision based mouse", Acoustics, Speech, and Signal Processing, Proceedings. (ICASS). IEEE International Conference, 2012.
[2]. Chu-Feng Lien, "Portable Vision-Based HCI – A Realtime Hand Mouse System on Handheld Devices", National Taiwan University, Computer Science and Information Engineering Department.
[3]. Kamran Niyazi, Vikram Kumar, Swapnil Mahe, Swapnil Vyawahare, "Mouse Simulation Using Two Coloured Tapes", Department of Computer Science, University of Pune, India, International Journal of Information Sciences and Techniques (IJIST) Vol.2, No.2, March 2012.
[4]. Akshay Ishwar Pawar, Sahil Prakash Tumbare, Tejal Avinash Godse, Tejaswini Wagh, "Mouse Control using a Web Camera and Hand Gestures with Colour Tapes", International Journal of Science Technology & Engineering, Volume 2, Issue 11, May 2016.
[5]. Riza Sande, Neha Marathe, Neha Bhegade, Akanksha Lugade, Prof. S. S. Jogdand, "Virtual Mouse using Hand Gestures", International Journal of Advanced Research in Science, Engineering and Technology, Vol. 8, Issue 4 , April 2021.
[6]. Abhik Banerjee, Abhirup Ghosh, Koustuvmoni Bharadwaj, "Mouse Control using a Web Camera based on Color Detection" ,IJCTT, vol.9, Mar 2014.
[7]. Rachit Puri , "Gesture Recognition Based Mouse Events", International Journal of Computer Science and Information Technology, 2014.
[8]. Angel, Neethu.P.S, "Real Time Static & Dynamic Hand Gesture Recognition", International Journal of Scientific & Engineering Research Volume 4, Issue3, March-2013.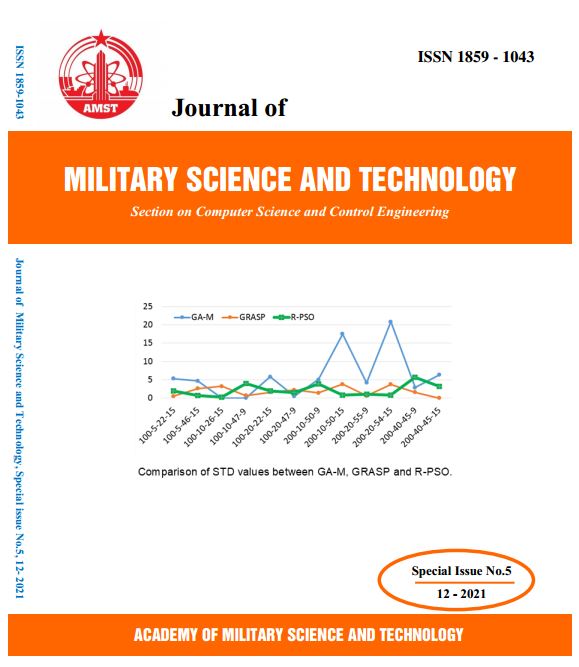 Downloads
How to Cite
Hoa Tat Thang. "Computer Control in Human-Machine Interaction Systems by Hand Movements". Journal of Military Science and Technology, no. CSCE5, Dec. 2021, pp. 42-48, doi:10.54939/1859-1043.j.mst.CSCE5.2021.42-48.
Section
Research Articles