APPLICATION OF ARINC-429 MULTI-CHANNEL DATA TRANSFER DEVICE IN MASTERRING NAVAL EQUIPMENT SYSTEM
58 views
Keywords:
ARINC-429; Flying device.
Abstract
While mastering the high-tech in Naval weapon systems, the Institute of Information Technology has manufactured the ARINC-429 - ETHERNET converter, serving directly to researches and experiments. This article presents the ARINC-429 standard multichannel data transceiver and ARINC-429 multi-channel communication standard application in high-tech weapons systems.
References
[1]. Thuyết minh kỹ thuật tên lửa 3М-24Э, tập 1 và tập 2.
[2]. Bộ thuyết minh kỹ thuật tổ hợp tên lửa УРAH-Э trên tàu lớp 12418.
[3]. Nguyễn Chí Đức và các cộng sự. "Một số kết quả bước đầu trong nghiên cứu mối quan hệ trao đổi thông tin giữa КАСУ-3Р-60УЭ và đạn tên lửa 3M-24Э trong quá trình chuẩn bị phóng và phóng tên lửa". Tham luận chuẩn bị cho Hội thảo của Quân chủng Hải Quân. Năm 2011.
[4]. ARINC protocol tutorial, Condor Engineering, 2000.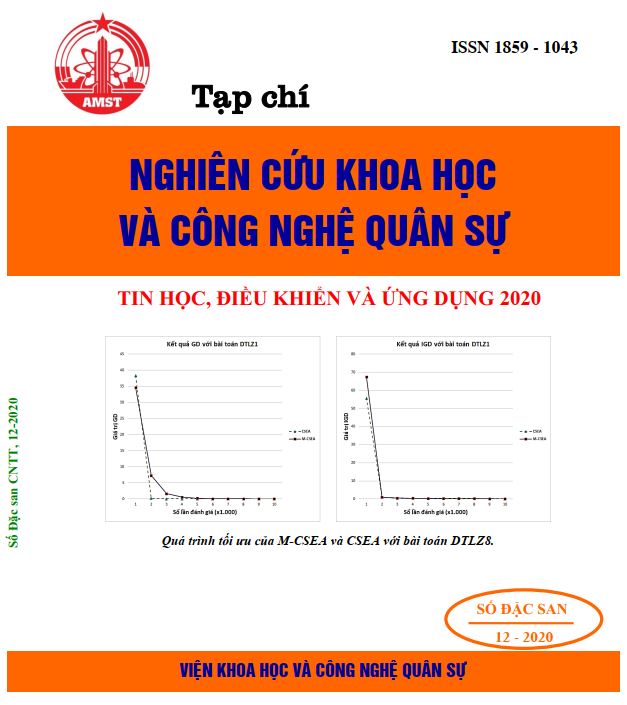 Downloads
How to Cite
Bạch. "APPLICATION OF ARINC-429 MULTI-CHANNEL DATA TRANSFER DEVICE IN MASTERRING NAVAL EQUIPMENT SYSTEM". Journal of Military Science and Technology, no. csce4, Dec. 2020, pp. 109-12, https://online.jmst.info/index.php/jmst/article/view/321.